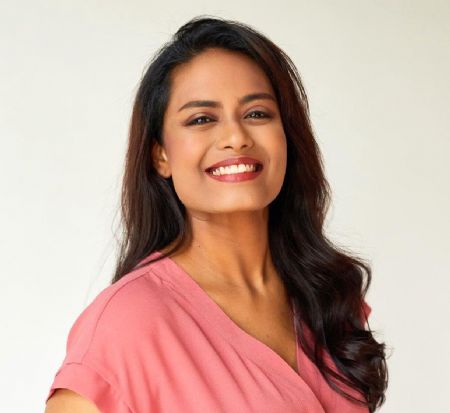 Rebekah
32 years old, Singapore, Singapore
Rebekah Sangeetha Dorai has been described as a chameleonic actor who dedicates full attention and exacting detail to her work. A mainstay in the Singaporean theatre scene; she quickly rose to prominence with strong performances and her powerful singing voice - both of which moved audiences at Wild Rice's MERDEKA and Edith Piaf's NO REGRETS, the latter of which featured an unforgettable rendition of "Mon Dieu".

Addressing race, sexuality and identity, her show "Building A Character" premiered at the Singapore Theatre Festival in 2018. The show was sold-out, and featured as The Business Time's Top 3 theatre picks of the Year. She also scored a Best Supporting Actress nomination at the Life! Theatre Awards Singapore for her multi-character turn in Three Fat Virgins (2019). Other selected live performance credits include Discord of Discourse (UK), Miss British (Esplanade Studios), Eloquence (with Santiago, Chile), Merdeka (wild Rice), Two Songs and a Story (Checkpoint Theatre), NDP 2020 and 2021, and The Bride Only Knocks Twice (The Theatre Practice).

As a singer, Sangeetha debuted her solo jazz concert Sangeetha Sings Sinatra: Live at the Esplanade in early 2019. She had a featured solo in NDP 2020, and sang with an established quartet in No Regrets - A Tribute to Edith Piaf (Singtheatre), which premiered to sold-out audiences in April 2021. She was also featured on Royston Tan's "24". Her next concert is slated for 2024.

As a voiceover artist, she has lent her voice to commercials, government pitches and educational podcasts. Her reels include pitches for DBS, Woodleigh Residences, CITYgas, Airasia, SUSS, and Channel News Asia. She has also been a featured speaker on panels for Advisory Singapore, Singapore Literature Festival, and Glaxosmithkline. You can currently hear her as Celeste Chandra in the new superhero animated series PUBERTEENS on Mediacorp Channel 5.

Her short film, Seven Centimetres From Myself (Pantheon Media) was one of just 25 films - and the only Asian film - to be screened at the Go Mental! International Short Film Festival 2021, a Berlin film festival focused on mental health, and netted her a starring role in VETTAI: The Hunt Begins. She will next be starring in the 108 Media-produced Moonrise Sunset, slated to premiere globally on major streaming platforms in 2024. Catch her online @rebekahdorai, or view her full works at https://www.msdorai.com/.
Experience
Modelling experience: Slight
Acting experience: Professional
Singing experience: Professional
Dancing experience: Slight
Performed on film/TV
Performed at fairs
Performed in TV commercials
Performed in TV series
Performed in theater
Participated in music videos
Participated in musicals
Sung in a group
Job interests
Modelling jobs
Participation in singing group
Singing/dancing in theater
Movie/TV - acting